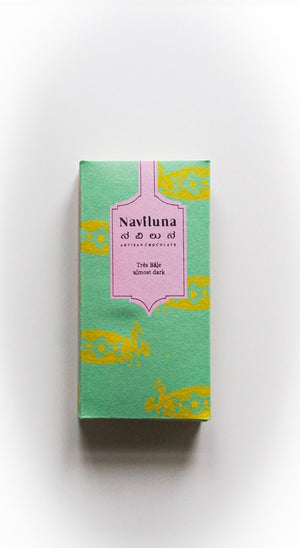 NAVILUNA "Almost Dark" 61.8% Três Bāḷe Chocolate Bar
Sale price Price Rs. 390.00 Regular price Unit price / per
ALMOST DARK is our new series of chocolate bars for those that don't fully enjoy dark chocolate but still want the Naviluna experience. Made with the same south Indian organically certified cacao, cold processed slowly at low temperatures but only 61.8%, sweetened with unrefined cane sugar.

Featuring three prominent banana varieties from in and around the Deccan Plateau including Elakki, Rasa (Nanjangud - Juicy) and Kāḍu (Forest) flambéd, candied and dusted, before being set upon 61.8% south Indian dark Chocolate.
Made from certified organic cacao beans
Net weight: 60g
Naviluna artisan dark chocolate is hand-crafted at low temperatures to harness the greatest nutritional potential of each and every cacao bean, made bean-to-bar in small batches, showcasing the distinctive terroir and flavour of south Indian cacao.
Nutritional Value (per 100 grams)
Energy - 520.94 kcal
Carbohydrates - 60.29 g
Protein - 7.62 g
Fat - 27.70 g
Sugar - 29.65 g
Ingredients

Cacao Beans (52%)*

Unrefined cane sugar (30%)*

Cacao Butter (4%)*

Banana (16%)*

Darjeeling tea (1%)*

* denotes organically certified