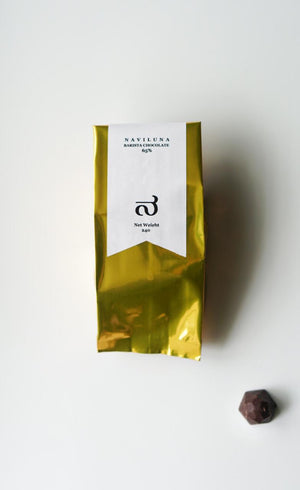 NAVILUNA Barista Chocolate 65% - 240g
Sale price Price Rs. 300.00 Regular price Unit price / per
65% south Indian Baking and/or Drinking chocolate made from Karnataka and Kerala origin cacao beans and sweetened with unrefined organic cane sugar.
Packed with all the flavour you've come to expect from Naviluna, it is perfect for use in cakes, flapjacks, granola, smoothies, mocha's, ice mocha's and even hot chocolate. Our B grade features a lower fat content and a coarser texture than our A grade, making it suitable for the above yet still at a very competitive price.

If you are looking for chocolate to be used in glazes, bonbon, pralines and bars, then we would recommend our A-grade which is smoother, more fluid with higher fat content and boasts a more nuanced flavour profile.
Format: 9g pieces
Nutritional Value (per 100 grams)
Energy - 518.32 kcal
Carbohydrates - 61.06 g
Protien - 9.30 g
Fat - 26.32 g
Sugar - 28.70 g
Ingredients

Cacao Beans (65%)*

Unrefined cane sugar (35%)*

* denotes organically certified